Non-EU Student Exchange Program
Students of the University of Vienna are offered the possibility of participating in the Non-EU Student Exchange Programme by spending one or two semesters at a partner university in North or Latin America, Australia, Asia, Africa, Russia or the Ukraine.
This is possible provided the desired host university has concluded an exchange agreement with the University of Vienna.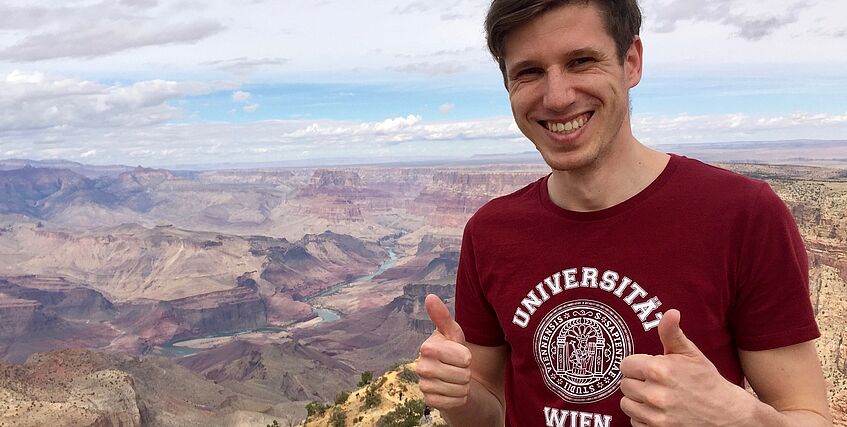 News
Second application round for the Summer Semester 2022
The International Office offers for the first time a second application round for the summer semester 2022. Students who want to undertake an exchange within the Non-EU Student Exchange Prorgram in the summer semester 2022 may apply for any remaining spots until May 15. The application requirements are the same as for the main application round. Please note that students are generally not awarded a scholarship for remaining places. Please click here for more information.
Update
Stays abroad from June 2021 on
The regulations for student stays abroad in countries with a Covid-19 related travel warning will be changed. From 1 June 2021, students will be able to go abroad even if there is a Covid-19 related travel warning for the respective country (security levels 5 & 6 according to the BMEIA).

The International Office will inform about details of the new regulation as soon as possible (probably by mid-May). Students who have already been nominated will be contacted directly by the International Office.
Information on
Summer Semester 2021
Although the International Office is currently making all the necessary preparations for the implementation of mobilities in the summer semester 2021/22, we should all be aware that, given the current situation, mobilities cannot be guaranteed, as the situation may change at short notice.
The International Office closely monitors developments and recommendations, and follows the travel warnings of the Ministry of Foreign Affairs (in German). The University of Vienna therefore reserves the right to withdraw nominations in regions with a high security risk, even at a short notice, and to block spots. In any case, stays in countries with a high security risk (level 5-6) are not possible.
Please note that it is unfortunately not possible to defer the stay to the next academic year. However, students are welcome to re-apply for a Non-EU Student Exchange spot before the application deadlines.
Exchange placements
You can find the right partner university for a stay abroad within the Non-EU Student Exchange Programme here.