University of Warwick / University of Vienna
Joint Webinar on International Online Education
Fellow Guild Universities Warwick and Vienna held a joint webinar on their respective strategies and initiatives regarding international online education on September 21, 2021: As the Covid-19 pandemic has both boosted online teaching activities and impeded international travel, international online education activities have moved into the centre of attention. The webinar, which was initiated by Gillian Olivieri, Associate Director of International Strategy and Relations at the University of Warwick, and co-organised by the University of Vienna's International Office and the University of Warwick's International Strategy and Relations Team, aimed at exchanging strategies on an institutional level and presenting case examples of international online teaching activities.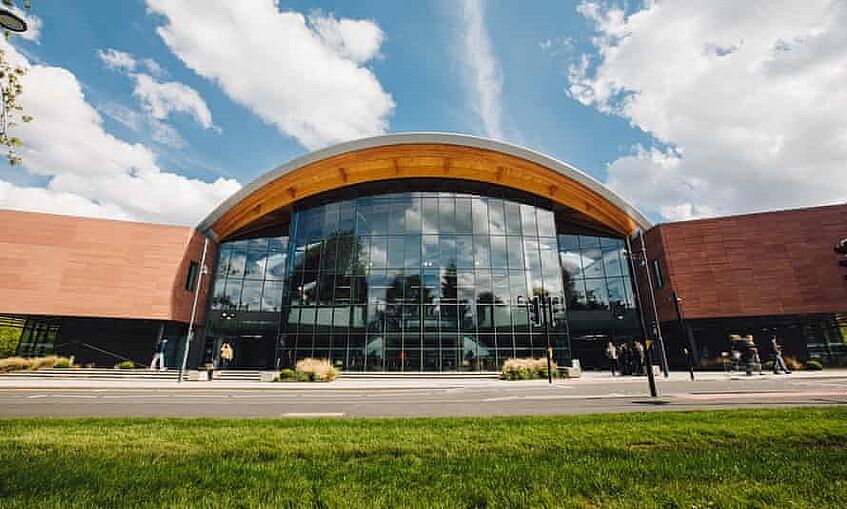 University of Vienna: Integrating digital forms of mobility into the course programme – COIL (Collaborative Online International Learning)
Barbara Good, Head of UoV's International Office, outlined the university's course of action to integrate digital forms of mobility into the course programme, focusing on the COIL (Collaborative Online International Learning) approach. By building up expertise on COIL via offering a series of webinars, the International Office hopes to set up a community of practice for COIL at the University of Vienna. As COIL courses require additional organizational and didactic effort by the teachers, institutional incentives are necessary to encourage and support teachers to integrate international online cooperation in their courses. As a pilot project, the International Office funds teaching assistants for COIL classes to alleviate teachers' additional workload for COIL classes.
Krisztina Rozgonyi, Department of Communication, University of Vienna and Claudia Padovani, Department of Politics, Law and International Studies, University of Padova presented insights from their transnational teaching partnership "Visions of Justice in a Post-Covid Digital World: from research to advocacy", while Anke Sennema, Dept. of German as a Foreign Language, University of Vienna / German Studies, Johannes Gutenberg University Mainz outlined her experiences with COIL within an MA research seminar with the University of Tehran.
University of Warwick: Alliance Intensive Study Programmes (AISP) and Virtual International Internship Programme
Jo Angouri, Academic Director of Education and Internationalisation at the University of Warwick, introduced Warwick's "Alliance Intensive Study Programme (AISP)", a programme offering global learning without physical mobility, and Esther de Perlaky, International Employability Manager at the University of Warwick, outlined "TeamWork", their virtual international internship programme.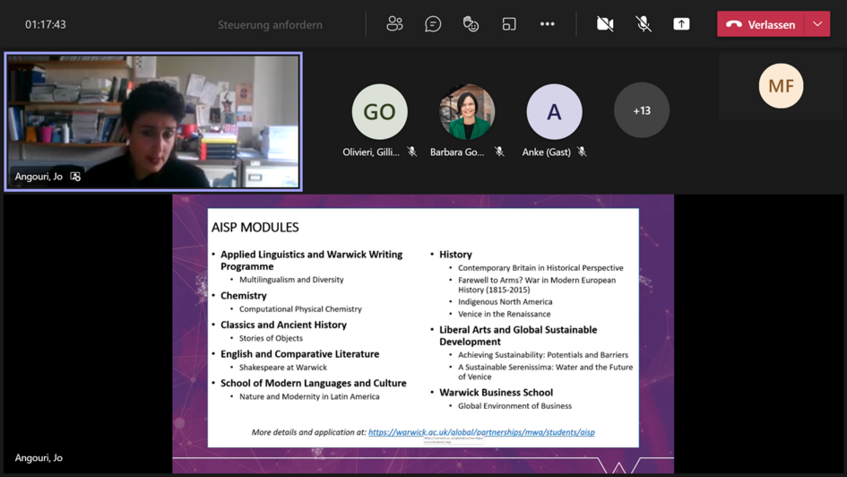 The webinar's participants shared their mutual hope and expectations that the digital forms of international mobility and cooperation were going to stay also in a post-covid world, and a lively debate on gender aspects of international online cooperation ensued.